The wagon is from the Paper Doll Dress Up Cartridge. The pumpkin is strips of cricut papers.
Triangle pennant stamped with HAPPY LABOR DAY.
This is how the wagon started
I had this little Whitman's candy box and the top made the perfect inside of the wagon. It could hold candy, little decorative pebbles, whatever you wanted to decorate with. It was so easy to make. Two wagons cut (flip the second one) layer your colors and attach the box between the two. If you make the wheels sturdy enough it could hold salt and pepper shakers or whatever you wanted.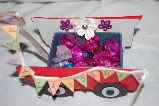 Here the wagon is filled with some scented gems
and below with some candy.
Hope you have a wonderful Labor Day and get to celebrate it without working. I am going to be in the States at the Rock and Roll Half Marathon watching my grandson while his brothers and their wives run in the race. I'm going to be one happy woman!