The Fantabulous Cricut Challenge for this week is "Shower the Baby." Create a project that has something to do with a baby shower. Example; invitation, gift, baby album etc..
This is my baby shower invitation for a boy's baby shower. I didn't put my real address or phone number on this one to put up on the internet - for obvious reasons. :-)
The card is postcard style. Measures 5x7
The stop sign, telephone poles and road signs are on George
The Truck, Baby Shower, It's a Boy are on New Arrival
The Road is on My Community
The little birds and the grass are on Create a Critter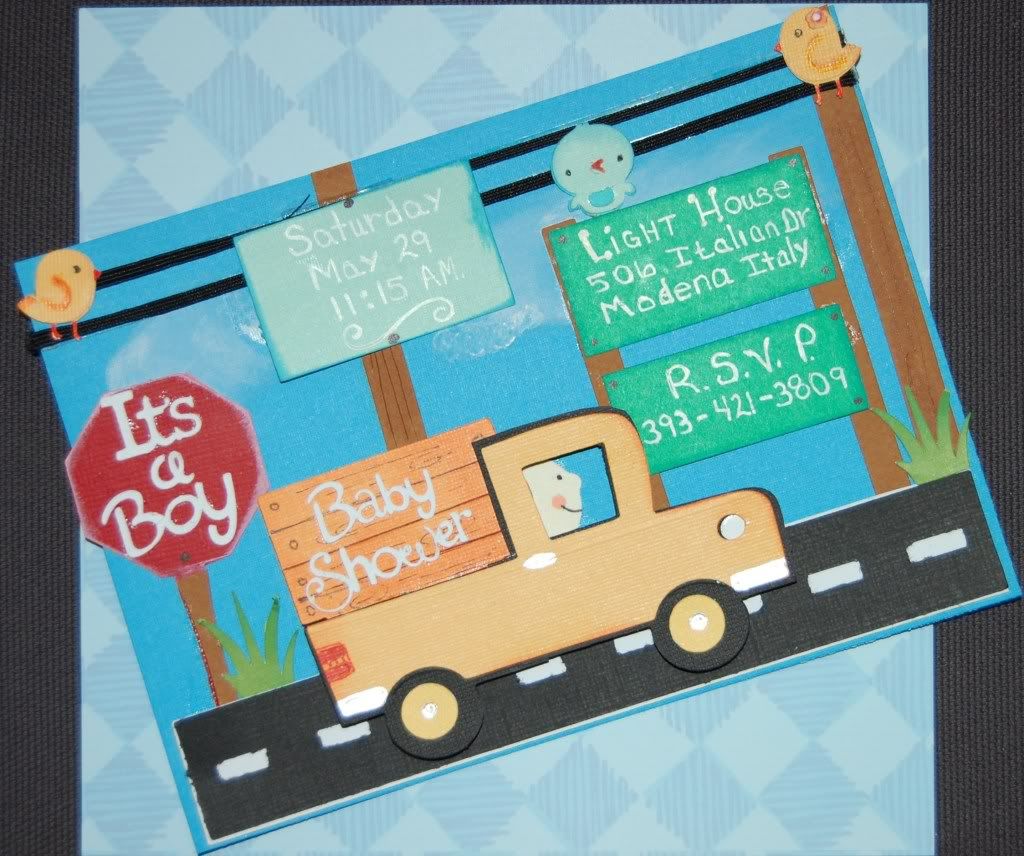 The truck is shadowed and pop-dotted. The clouds are cat-eye liquid chalks. The back of the card is computer generated with the name of the baby and parents,where they are registered and other pertinent information.
I also did this wall-hanging of round frames of our grandson Ellis. I'm going to keep adding the round frames until his first birthday in a few months.
Four round frames cut at 5 inches using the Paper Pups cartridge for the double round cut out frame.
Lyrical Letters for the Font
Computer generated saying:
A baby has a special way
of bringing joy to every day
Started with a square of paper measuring 6 x 6 square and cut a 5 inch circle. I welded the letter to the circle in DS but if you don't have DS just cut out out the letter to the size you want it, mine is 3 inches.
I printed the pictures on my picture printer so I could size the actual photo the way I wanted it.
I used some old DVD's for weight
Trimmed the photo down to size
Punched the holes with my Crop a Dile II Big Bite, which punches
easily through the DVDs. Added buttons, twine, a little red bird and some blue ribbon.
He really does bring us daily joy!