We are leaving for Sweden in the morning and I have been cutting like crazy on the cricut to take some things with me to do while there. Especially to get my Christmas cards mostly done. Between Wednesday and Friday I got these two cards done and some others that I got in the mail. The first one, the snowman I scraplifted from Jeanne Phillips. I liked the non-traditional colors of the snowflakes and the "let It Snow" in the arc above his head. I also like the bottom part of his face on the inside. :0)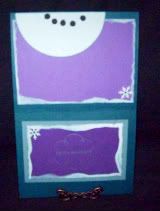 The inside says Happy Holidays.

This second card I am very proud of because I am not very good at using different kinds of prints together but I did on this one and I liked how it turned out. I plan to try using more. It is also a JoyFold card.

So, we are Swedish bound and I am excited!