It's Tuesday and I have power and internet. After nearly 24 hours without internet, I am back up and running. I realize how terrible it is not to have internet, to be able to contact people, read the news, interact with IM and email. I felt lost, grumpy and whiny. But, that's all better now. These are the two cards I got done today. I decided I needed to do only one thing difficult and one thing simple. This first card is a mosaic card which I have never done before, but I went to "Carol's Cards" a blog that I follow and I totally scraplifted this from her. HERS was gorgeous and I tried to follow her format.
After I published this card, I decided I really hated it. So, I changed it to this: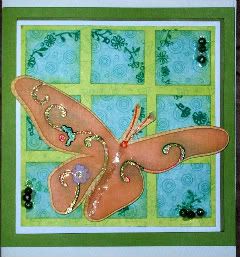 This second card was simple and I followed a simple format for it.
And the inside